I woke up this morning to lots of wonderful comments from lots of new followers, and once the caffeine kicked in, I realized why! Monkeybean is the featured blog this week on the Follow Me, Chickadee blog hop! Follow Me, Chickadee is one of my favorite weekly hops, and I'm so excited to be their featured blog this week! Thanks, ladies!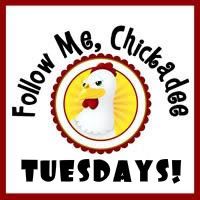 So…if you want to find some really great blogs – check out the Follow Me, Chickadee hop and link up!
Bean and I have a girl's morning planned today while Bennet's at preschool. We have her 6-week follow-up for her STAR band – I can't wait to get her scan and find out how much progress she's made with her helmet! Her head looks a lot rounder to me, so I'll be happy to know exactly how much more round it's gotten since we started working on fixing her cranial plagiocephaly!
Have a great morning, everyone! Stay warm!