My wonderful friend,
April
, is coming over this morning to take some Christmas photos of all of us for our Christmas card. I love designing our Christmas card every year - it's one of the parts of Christmas I look forward to most. I was just browsing my
Shutterfly
account, looking at old cards I've made through the years with photos of Monkey. Wow, how he has grown. Where did this sweet, little baby boy go?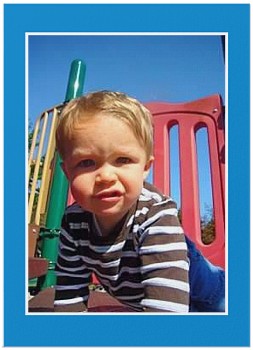 Classic Blue 5x7 folded card
I love having websites, like Shutterfly, where you can make great photo cards and gifts with just a few clicks of your mouse. The more time I can save with my holiday preparations, the more time I have to spend with my sweet little ones. That's important because, before I know it, I'll be looking at photos of them right now and wondering how they grew up so fast!