Aaaaaah – I had the most amazing girls' night out the other night with some friends from my Moms Club. We went to a foot spa, where I got a pedicure and a 25-minute hot stone massage – amazing! I am obsessed with OPI nail polish, and I excitedly picked out a pretty sky blue color for my toes.
OPI makes such fun colors, and I was really excited to see an OPI Swap going on over at It's the World I Know! I just signed up to participate and I can't wait to pick out a pretty OPI shade for my swap partner, and to receive a new bottle of OPI in the mail!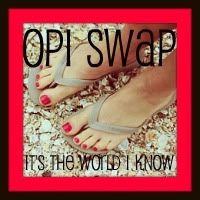 It's not too late to sign up if you'd like to play, too! Deadline is June 3rd, so click the button above for details!